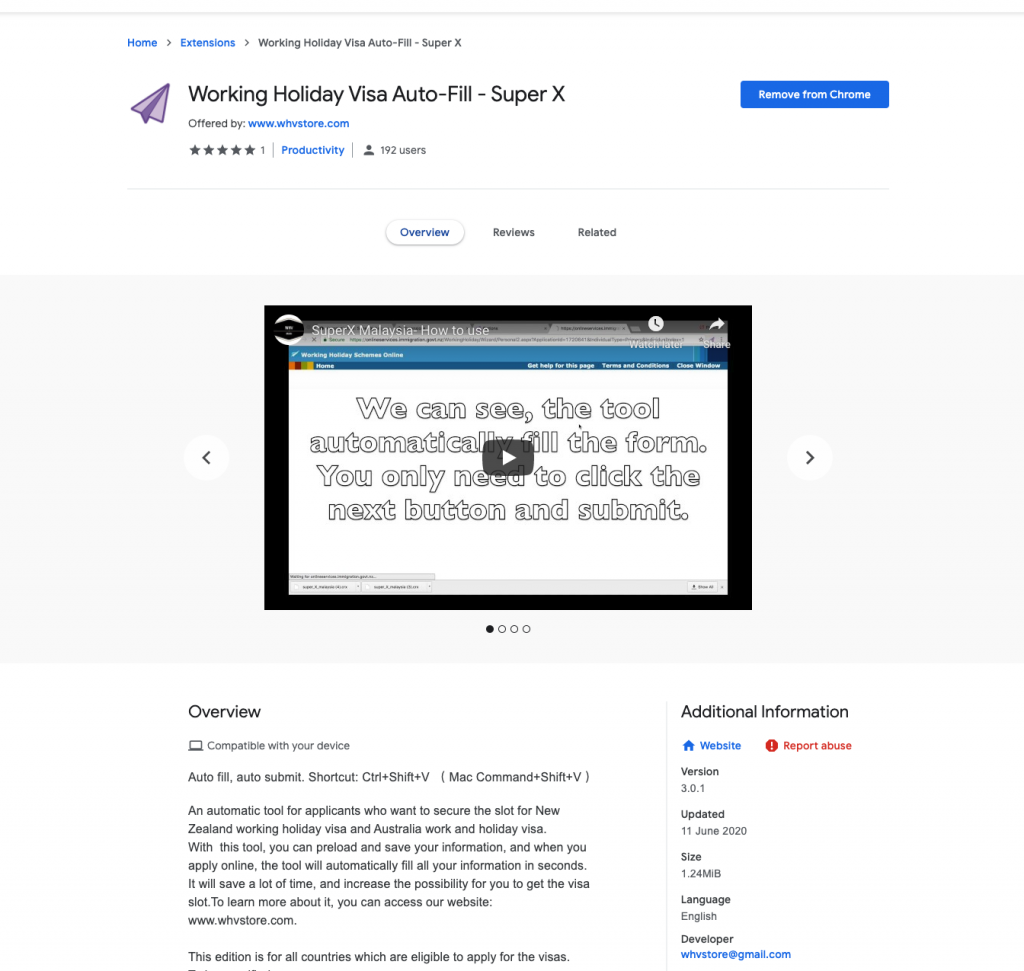 Note: Do not use your own information to do the practice
And we also have the Chinese Version of this introduction here: https://www.whvstore.com/plugin/
The COVID-19 make New Zealand postponed the open date for 19 capped countries working holiday visa. So we speed a while upgrading the Super X, which is the automatic tool help you fill the working holiday form, secure the slot.
Here is the old article about it: Super X. You can save your information in advance, and when the slot is opened, then it will automatically fill your information in, submit it, and get the slot. Make your dream true to New Zealand.
We upgrade the plugin recenlty, make the user experience better, performance better. Here is the introduction:
How to get the slot with higher possibility?
The secret is only one word: FAST!!!
You just need to be quicker than other applicants, you will be the chosen one.
So how to be faster than other applicants? There are a lot of places you can improve, then core part include 2:
Network
Fill the form quickly and submit
Network
Speed is one aspect of it. Normally 100MB/s should be enough, but if you can access even faster one, that will be perfect. However, speed can not resolve all the problems. It is like the racing, all the roads can lead you to your desination, however, some roads are broader, some roads are closer to the desination, some roads are not that close and broad, however, there is not much people on the road, so you can run quite fast. So in general, if you have access to the fast internet in New Zealand, that will be the first choice. Then second choice is to find all your friends around the world, tell them to help you get the slot at the same time.  Someone will enter the shortcut to the server, so secure your slot in seconds.
So the solutions is here: 1. make sure your internet as fast as you can. 2. Get all your friends around the world to help you get it, better the guy in New Zealand.
Speed filling the form:
Super X
So most of our time spent on filling the form, to secure the slot, faster than other applicants/competetiors, you will need to do this part insanely fast, like you do not need to do this step.
So here we are, we have super X for you to use, which is an automatic forming filling extension.
You can save mutiple user information in advanced which can be automatically filled when you apply online.
---
Super X
Installation link: chrome web store
Features:
save up to 8 users information in advance
and automatically fill the form for New Zealand working holiday visa
save your hand and time, help you get the slot.
How to use it?
install it with the above link, only for chrome
then you will see a small plane icon on your right top corner:
Click the icon, then you will see this:
We will explain it one by one:

first line, you can choose only fill the form, or allow the Super X also help you submit the form after finished. If you are testing and practicing, then choose "only fill". And on the open day, choose fill + submit
second line: most of you should choose New Zealand, but Super X also can help Malaysian secure a slot for Australia Work and Holiday visa.
third line: when the internet is crowded and the New Zealand Immigration system will sometimes crashed, and return empty or weird errors, this line feature can help you automatically refresh when some unexpected pages shown up, recommend you use this feature.
forth line: key part, here is where you fill your information. If you choose info 1, then Super X will use the information you saved in info 1. If you want to change information for info 1, then click the CHANGE INFO button. After you clicked it, you will see this page:.

if you are testing, you can just click the generate info randomly, and put your account and password in, and then do the test.
And for the personal form, there are some fields are not required for New Zealand working holiday visa, which included the National Id, ID number field etc, that's all for Malaysian Australia Work and Holiday visa.
The form will automatically save your information after you change things, you will see that hint on the top. And then you can add your friends' information in info 2,3,4… And if you get the slot first, you can also help them to get it.

And the last but not least, the quick link. There are 5+ pages for the forms, you will always face the suitation that after you finish one page, go to the next page, the whole website crashed, then you can click the quick link directly go to the page you need to go, doesn't need to go back to home page, and redo the process before. So will save you huge time!! The quick link will only be available after you click the apply now button and get the form.
Basic information are as above, if you are still not sure about anything, feel free to shot us a message.
Q & A
We will publish questions asked frequently here with the answers, and if you have any further questions, contact us:
email: whvstore@gmail.com
line: whvstore
wechat: whvstore