We are the professional team which help people get the quota for both Australia Work and Holiday Visa and New Zealand Working Holiday visa.
We are a well experienced team.
We have helped more 1000 clients get their working holiday quota until now.
Our typical service process
The following graph shows the typical service process we are using.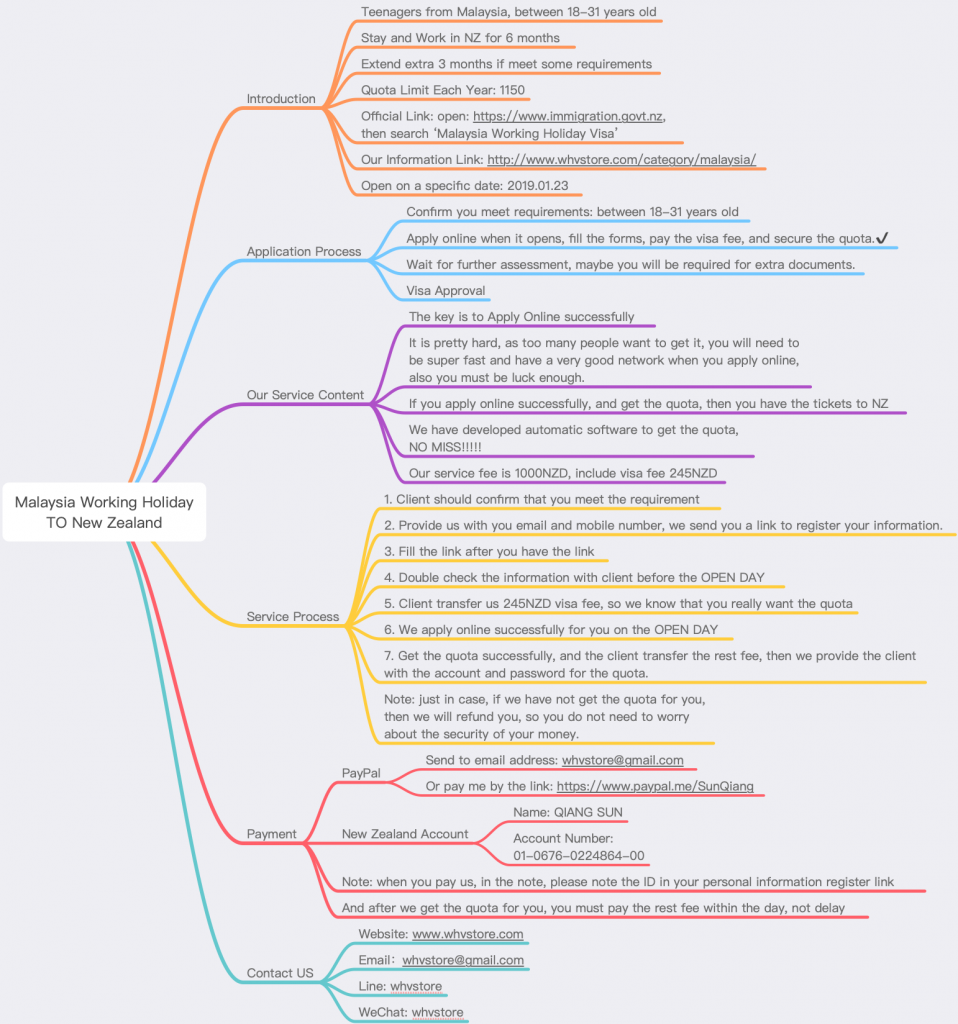 Our service is to help people get the quota for the visa, not the visa itself. For example, Malaysia Working Holiday Visa to New Zealand has a limitation of 1150 quotas, it is very hard to get it, but we have the ability to get it without miss.  Malaysia Work and Holiday Visa to Australia has a limitation of 100 quotas, we also can secure it.
New Zealand Working Holiday Visa
For New Zealand working holiday quota, we charge 1000NZD for each quota, include the visa fee if there is one.
If you need our service and you are sure you meet the requirements, then send us the phone number and email address, we will generate a link to gather the basic information we need from you.
And after that, before the quota opens, you will need to pay us the visa to show that you are really want the quota.
When quota opens, we get it for you, and you pay the rest fee within the day, and we send you the account and password.
If we fails (just in case), we will fully refund you within the day.
Australia Work and Holiday Visa
Mainly for applicants from Malaysia and Vietnam. For Australia Work and Holiday visa quota, we charge 1000AUD for each quota, not include visa fee.
You send us the email and phone number, we generate the link to gather your information
We double check it with you before it opens.
Then we get it, and you pay us the fee, we give you the appointment letter.
Contact us
email: whvstore@gmail.com